Keywords
Pancreas; Pancreatic Cyst; Review
Abbreviations
ELISA enzyme linked immunosorbent assay
INTRODUCTION
Pancreatic cysts are heterogeneous groups of diseases with a wide spectrum of pathologies which can be divided as non-neoplastic post-inflammatory cysts and benign and malignant neoplastic cystic tumors [1]. There are also other classifications which divide the pancreatic cysts according to the presence or absence of epithelial lining. They are divided in to true cysts (with epithelial lining) and pseudocysts (without the epithelium) [2].
The vast majority of pancreatic cysts are pseudocysts with no epithelial lining. One of the most important cysts in this category is infection-related pseudocysts, which are mainly composed of parasitic cysts such as hydatid cysts [3]. There are sporadically reported cases of hydatid cyst in the pancreas. Hydatid cyst (caused by the larval stage of Echinococcus granulosus) should be investigated in all pancreatic cysts, especially in the geographical regions where the disease is endemic (Middle East and other parts of world including India, New Zealand, Australia, Turkey and South Europe), which uncommon organs can be involved by the cysts of Echinococcus granulosus [4]. The most common organ which is involved in hydatid disease is liver (65-70% of the cases) followed by the lungs (25%). Pancreatic location of hydatid disease is extremely rare with a reported incidence of less than 1% [5].
In our experience in one of the largest referral centers in the South of Iran, unusual sites of this disease such as breast, adrenal, appendix have been reported [5, 6, 7] which can mimic other more common diseases and causes increased risk of diagnostic delay and potentially serious complications [8].
The aim of this study is to review the English literature in the past 20 years concerning the rare occurrence of pancreatic hydatid cyst and its clinicopathologic findings. Essential findings such as demographic findings, presenting symptoms, method of primary diagnosis, laboratory findings, operative findings, treatment modalities, and follow-up studies will be separately included in all of the cases.
To the best of our knowledge, during the last 20 years, there have been less than 130 reported cases of pancreatic hydatid cysts in the English literature so far.
GEOGRAPHIC DISTRIBUTION
Table 1 shows the number of cases from different parts of the world. Most common geographic locations are in Asia (India) and mediterranean sheep-raising countries such as Turkey and Iran [4, 9]. This disease in the pancreas has also been reported from South Africa and African countries such as Tunisia and Egypt [9, 10, 11, 12, 13]. In Europe most of the reported cases have been from Spain, Romanian and Greece [14, 15, 16], however it seems that pancreatic hydatid cyst should be expected to occur in every country in the world and even reports have been published form France and Switzerland [17, 18]. Table 2 shows pancreatic hydatid cysts reported in the literature from different geographic areas of Iran.
DEMOGRAPHIC CHARACTERISTICS
Among 124 cases of pancreatic hydatid cyst which have been reported in the last 20 years, there were 54 female and 70 male patients. Age range has been from 3-72 years old (32.66±17.12). Table 3 shows a brief review of the high lights of the clinicopathologic findings in these 124 patients.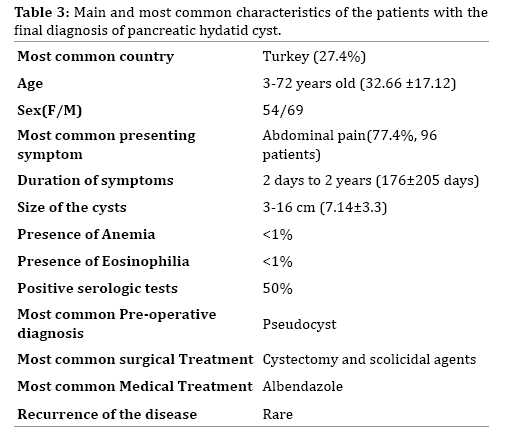 SIGNS AND SYMPTOMS
The most common presenting symptom in pancreatic hydatid cyst is abdominal pain which has been reported in 77.4% of the cases (96 patients); some of which have been radiating pain to back. Many of the cases have presented with abdominal pain and jaundice which have been reported in 39 patients (31.45%). Painless jaundice is very rare in pancreatic hydatid cyst and has been reported in three of the previous cases of pancreatic hydatid cyst [19, 20, 21].
Fever has not been a common finding in hydatid cyst of pancreas, reported in 8 cases (6.45%) [11, 22, 23, 24, 25, 26, 27, 28].
Some of the previous cases have been presented with abdominal pain, and during physical examination, an epigastric or left upper quadrant pain have been detected. However incidental finding of a mass in the absence of pain is very rare and have been only two cases in which the mass was discovered incidentally with no abdominal pain [29, 30].
There have been also a few (5 patients) reported cases who has been presented with acute abdomen and sign and symptoms of acute pancreatitis or acute appendicitis [13, 22, 25, 31].
Duration of the disease has been variable and the patients have been presented with 2 days to 2 years of on and off abdominal pain. Also there have been cases with the history vague abdominal pain and discomfort which has been started years before their current episode [21, 28]. Eighteen patients (14.6%) had accompanied vomiting and rarely loss of appetite (3 cases) and weight loss (5 cases) have also been reported [4, 9]. There have been one case report of the presentation of pancreatic hydatid cyst as portal hypertension [18]. Another very rare presentation has been anaphylactic shock secondary to rupture of a missed pancreatic hydatid cyst [14, 32].
There is another extremely rare case report of a pancreatic hydatid cyst which has been presented as an intercostal hernia [33]. Table 4 shows the summery of the different sign and symptoms of the reported pancreatic hydatid cysts.
LABORATORY FINDINGS
Complete blood count has been normal in most of the pancreatic hydatid cysts. Anemia and leuckocytosis have been very uncommon and has been just reported in 5 (4.06%) cases [22, 28, 33, 34, 35]. Also mild to severe eosinophilia (2.6-25%) has only been reported in 9 cases (7.3%) [19, 22, 32, 36, 37].
Biochemical studies have been normal in the majority of the cases. Tumor markers have been reported as normal (CA 19-9) and also even amylase has been rarely increased only in 8 cases from 165-4965 IU/L (normal 17-115 IU/L) [17, 19, 23, 26, 38, 39, 40, 41, 42]. Also lipase has been rarely abnormal only in 4 reports from 165-757 IU/L (normal 8-70) [17, 27, 37, 40].
Liver enzymes have been abnormal in some of the cases with pancreatic hydatid cysts without any evidence of liver involvement. Aspartate aminotransferase (AST) and alanine aminotransferase (ALT) and alkaline phosphatase (ALP) have been abnormal in 10, 8 and 14 cases respectively. AST has been 17 to 235 (normal <28 IU/L) and ALT was 55 to 336 (normal <28 IU/L). High ALP has been reported from 488-2742 IU/L (normal <300IU/L) [19, 20, 22, 23, 26, 35, 37, 38, 43, 44, 45, 46, 47, 48].
Serologic studies for hydatid cysts are indirect hemagglutination assay (IHA), ELISA and Casoni tests. Serologic tests have been performed in 50 cases, out of which 25 cases (50%) were reactive. Most of the reports have used ELISA and HIA and only two reports have performed Casoni test [4, 9].
IMAGING MODALITIES
Majority of the previous cases of pancreatic hydatid cyst have been diagnosed by modalities such as ultrasonography (US), CT scan and rarely magnetic resonance imaging (MRI).
Most of the reported US findings have been unilocular thin or thick-walled hypoechoic or anechoic masses in body, tail or head of the pancreas. According to the imaging classification [30, 49], most of them can be categorized as type I or II and rarely type III [50]. Calcification has been rarely reported [12, 17, 51]. Sometimes location of the cyst cannot be accurately determined by US findings and the patient has been operated with the preoperative assumption of left lobe liver hydatid cyst. CT scan of the pancreatic hydatid cysts has been mostly reported as spherical, single, and well-delineated hypodense nonenhancing cystic masses with no communication with the main pancreatic duct. Location of the cyst can be accurately determined by CT scan [27, 52]. There have been only three cases of pancreatic hydatid cyst with connections to main pancreatic duct of Wirsung which can be best detected by CT scan [10, 43, 53]. Some of the cases have been accompanied with cysts in other parts of the body such as liver [11, 52], kidney [17, 27], breast [54]. In some cases, presence of free floating membrane and daughter cysts has been very helpful for the diagnosis of hydatid cyst [55]. However many of the cases have been reported without a definite diagnosis of hydatid cyst. Radiologically, according to US and CT scan findings the most common differential diagnoses have been cystic neoplasms especially serous cystadenoma and chronic pancreatitis-related pseudocyst [6, 28, 40, 56, 57]. Some of the previous cases especially in the pediatric age group have been operated with the imaging diagnosis of choledochal cyst [26, 33, 58]. Preoperative diagnoses such as duplication cyst has also been reported [26]. Exceptionally rare patients have been operated with the imaging diagnosis of ductal carcinoma or cystadenocarcinoma [59, 60].
There have been rare cases with MRI study (5 case reports), with no additional information to US and CT scan. Reported findings in MRI in pancreatic hydatid cyst have been mostly double lining membrane [17, 36, 37, 43, 61].
Other Diagnostic Methods
Endoscopic Ultrasonography: As a pancreatic mass, EUS has been reported in some cases with the final diagnosis of pancreatic hydatid cyst, to know the exact origin of the cysts and to perform FNA (fine needle aspiration). This modality has been used in less than 5 cases of pancreatic hydatid cyst [17, 40, 58, 62].
Magnetic Resonance Cholangiopancreaticography (MRCP), Endoscopic Retrograde Cholangiopancreaticography (ERCP): According to imaging studies, some of the pancreatic hydatid cysts have been erroneously diagnosed as biliary cysts, especially when a connection with biliary and pancreatic ducts has been expected, so MRCP and ERCP have been performed [17, 19, 43, 58, 63]. The most common finding has been biliary tract dilatation in some cases because of the pressure effects of the large pancreatic cyst [19].
Fine Needle Aspiration (FNA): One of the most available and accurate diagnostic methods is FNA of the pancreatic mass, however In hydatid cyst should be performed with caution, because of the possibility of spillage and fluid leak which can cause severe allergic reaction and anaphylactic shock. This diagnostic method has been performed in 12 cases [10, 25, 26, 30, 33, 43, 54, 61, 62, 64, 65, 66, 67] both before surgery and during surgery or even rarely percutaneous [57]. The aspirated fluid has been transparent and eight (61%) FNAs showed scolices or hooklets or both as characteristic finding [10, 26, 33, 57, 61, 66, 67]. Also in some of the cases the levels of amylase and lipase have been tested in the punctured fluid [23, 33, 40, 54, 66]. However in most of them, these levels have been normal and high amylase and lipase in the aspirated fluid of pancreatic hydatid cyst has been extremely rare in 2 cases [23].
TREATMENT
Majority of the reported cases of pancreatic hydatid cyst in the English literature have been finally operated. The most common reported operative procedure has been cystectomy. Majority of the cases has been planned for laparotomy without a preoperative diagnosis of hydatid cyst, however during surgery, inspection of the laminated membrane has been documented and after puncture of the fluid and injection of different types of scolicidal agents such as cetrimide (5-3%), hypertonic sailine (20%), H2O2, ethanol (95%) or formaldehyde, the cyst has been unroofed and excised. In some cases omenoplasty has been done as well [16, 38, 42, 47, 67, 68, 69]. Also in some hydatid cysts with a connection to main pancreatic ducts or large-sized cyst, distal pancreatectomy with or without splenectomy have been performed [17, 28, 59, 62, 70]. In the hydatid cysts located in the head of pancreas, the reported procedure has been pancreaticoduodenectomy or cyst excision and Roux-en-Y [10, 20, 31, 58].
Some authors have claimed that there has not been any risk of spillage, so they didn't use scolicidal agents [66].
There has been other reported procedure such as central pancreatectomy which has been used in different pancreatic lesions as well as pancreatic hydatid cysts [70].
MEDICAL TREATMENT
In the majority of the reported cases, medical therapy has been Albendazole (800 mg/day or 10-15 mg/Kg/day) after surgery for 3 months, 3 courses each 21 days with one week gap between the courses [33, 32, 38, 58].
Preoperative Albendazole has rarely been used in some case reports to decrease the risk of recurrence when pancreatic hydatid cyst has been diagnosed before surgery [23, 48, 71].
FOLLOW UP AND COMPLICATIONS
In the majority of the reported cases of pancreatic hydatid cyst, no recurrence has been happened; however there have been cases that hydatid cyst has been missed at the time of preliminary operation [14, 38, 60]. Recurrence, acute pancreatitis, pancreatic fistula to other organs and anaphylactic shock secondary to rupture and spillage of the daughter cysts has been occurred and the patient presented with acute abdomen, fever and chills [13, 14, 17, 34, 38, 72].
DISCUSSION
Hydatid cyst is a common cystic disease in some of the Asian and African countries. It's rare in North America and Europe, However in some European countries such as Spain and Greece it's not very uncommon. Hydatid cyst of pancreas is an extremely rare occurrence even in the above-mentioned endemic geographic areas and to the best of our knowledge less than 130 cases have been reported in the English literature so far [73, 74 75, 76, 77, 78, 79, 80, 81, 82, 83, 84, 85, 86, 87, 88, 89].
This disease is more common in men and usually presents with abdominal pain and discomfort with or without jaundice [50, 88, 90, 91, 92, 93, 94].
Preoperative diagnosis of pancreatic hydatid cyst is very difficult and needs high degree of suspicion. Clinical sign and symptoms are nonspecific and usual laboratory tests are nonspecific however antibody against Echinococcus granulosus can be diagnostic and in the patients with pancreatic hydatid cysts when this antibody has been tested, more than 60% have been positive [89].
Ultrasonography has a critical role in the preoperative diagnosis of pancreatic hydatid cyst if characteristic finding such as water-lily sign are present. CT scan has added little information to US finding except for more accurate localization [53, 56]. ERCP and MRCP have been performed in the cases with suspicion to biliary disease. These two modalities can accurately determine the exact location of the cyst within the pancreas [48].
FNA during EUS or percutaneous have been rarely positive but detection of scolices and hooklets are definite for the diagnosis of hydatid cyst [95, 96]. The goal of all the therapeutic modalities are to decrease the complications, recurrence, and preventing the spillage of daughter cysts [18].
The surgical procedure can be conservative or radical. In some uncomplicated cases with no connection to main pancreatic duct, pericystectomy, unroofing accompanied by using scolicidal agents with or without omenoplasty has been performed. However in some other cases with large size, or with the connection to main duct, according to the location, distal pancreatectomy with or without splenectomy, Whipple's operation, and pancreaticoduodenectomy have been done [7, 94].
Most of the complicated cases have been occurred secondary to missed pancreatic hydatid cyst during laparotomy for excision of intra-abdominal hydatid cysts in the more usual sites such as liver [18, 22, 32].
The best medical treatment option is prescribing Albendazole before and after surgery which needs preoperative diagnosis of hydatid cyst [7].
CONCLUSION
Accurate preoperative diagnosis of pancreatic hydatid cyst is very important to lower the rate of complications and recurrence. Unfortunately in most of the previously published cases, serologic tests have not been done, so many of the patients have been operated with the preliminary diagnosis of pseudocyst or neoplastic cysts and diagnosis of hydatid cyst have been made during the surgery.
As a conclusion, hydatid cyst should be considered in the patients with pancreatic cysts in all of the endemic countries and determination of serologic tests in conjunction with US findings can be very helpful for accurate diagnosis.
Conflict of Interest
The authors declare no conflict of interest.
References